Merry Christmas!
We hope you and yours will experience a fresh and new closeness with Christ this Christmas season.
Christmas Eve Services
Sunday, December 24
Location: Valley Brook Community Church, 160 Granville Road, North Granby CT
Join us at one of our three, Christmas Eve services:
11:00 AM* | 3:00 PM | 5:00 PM
The services are one-hour and family-friendly so children are welcome to remain in service.

*We will offer special, children's programs at the 11:00AM service that include:
Nursery (infants-age 24 months)
Playtime for toddlers (ages 2-3)
Childrens church (ages 4-grade 5)
Sundays 9:15 & 11:00 AM
Sundays 9:15 & 11:00 AM | November 26 - December 17
Location: 160 Granville Road, North Granby, CT 06060
Most of us have special memories, traditions or celebrations that come to mind during the Christmas season. For instance some of us have a favorite Christmas movie that we want to watch! On Sunday mornings, we're going to take a look at some memorable movies to help us prepare to celebrate the birth of Jesus. Each week we'll watch a scene from a Christmas classic and use it as the starting point to learn about the spiritual truths surrounding the events of Christ's birth. Come and experience the hope and joy of the Christmas story during Christmas at the Movies.

We offer children's programs and classes during both services for infants through kids in Grade 5. During our 11:00 AM service we offer a class for students in grades 6-8.
Christmas Photo Booth
Capture a Christmas picture this year! Whether you go solo or take one with friends or family, it's fun and free. Pictures will be taken after the 9:15 and 11:00 AM service on the following Sundays:
- December 3
- December 10
- December 17
The photos will be uploaded to a Christmas photo album on our Facebook page for you to share and save!
Men's Christmas Pig Roast
Friday, December 15 | 6:30 - 8:30 PM
Location: Valley Brook Campus, 160 Granville Road, North Granby CT
Cost: $5 per person
All men are invited to the 2nd Annual Christmas Pig Roast. Great food and fun!
Joys of the Season
Sunday, December 10 | 7:00 PM (Snowdate December 17)
Location: Valley Brook Campus, 160 Granville Road, North Granby CT



Join us for our annual Christmas celebration! Joys of the Season brings families together for Christmas cookies, a family craft, carols sing-a-long, and our children's play: The Fumbly, Bumbly Angels!

Women's Christmas Gathering
Friday, December 8 • 7:00 - 9:00 PM
Location: Valley Brook Community Church |160 Granville Road, North Granby, CT
For: All women ages 18+
Take some time to slow down, put the business of life on hold and reflect on the joy of Christmas with other women. Enjoy a relaxing evening that will include a coffee bar, desserts, special music, Christmas message and good conversation. Bring a friend!
THE LIVE NATIVITY
Saturday, December 2 | 5:00 - 8:00 PM

Location: Salmon Brook Park Salmon Brook Street (Rt. 10/202), Granby, CT

Cost: Free Admission & Refreshments. We will accept non-perishable food donations to support community food banks.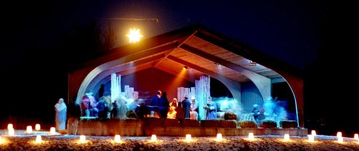 Every Christmas season, we invite the community to take part in a holiday tradition when Valley Brook Community Church presents The Live Nativity. Stop by any time during the event and enjoy it at your own pace.
Follow a path lined with hundreds of luminaria to the manger scene and...
... pet a sheep
... talk with a shepherd
... see the wise men present their gifts
... get an idea of what the first Christmas
was like!
All of the character and animals are real and children may pet the animals. Live vocal music is provided to accompany the scene. Take time to stop and enjoy the special music, refreshments and a hot beverages.
We hope you follow the star of Bethlehem to Salmon Brook Park and make some Christmas memories this season.