We believe a small give by a large collection of people can make a meaningful difference in the lives of people in our community.
We love God, love people, and want to change the world. And, we can do something greater together than we could ever do alone! We are able to do so much through Valley Brook because of your generosity, sharing your time as volunteers, and your faithfulness in giving as a form of worship.
The Dollar Difference provides everyone, of all ages, the opportunity to participate and make an impact. And, this opportunity is another way to turn our focus outward, to reach our community, and bless others. Small blessings can have a ripple effect and a big impact!
How it Works:
We'll announce during Sunday service when The Dollar Difference opportunity is "open" and include the announcement in News & Reminders email and on social channels.


We'll provide a description of the organization or individual we want to bless with our dollars and their need or work they are doing to Love God, Love People and Change the World.


Everyone will have the opportunity to participate and give within a specified time frame.


You can give online (select The Dollar Difference fund), in person on Sunday morning, or by mail (please include the note "The Dollar Difference" on your gift).


The Sunday after The Dollar Difference giving period closes, we'll share the amount received.


In the weeks that follow, we'll share some stories or highlights on the impact of your generosity and the difference a dollar can make.
Update: We received $1637.04 to support The Hartford Project! Thank you for your generosity!
---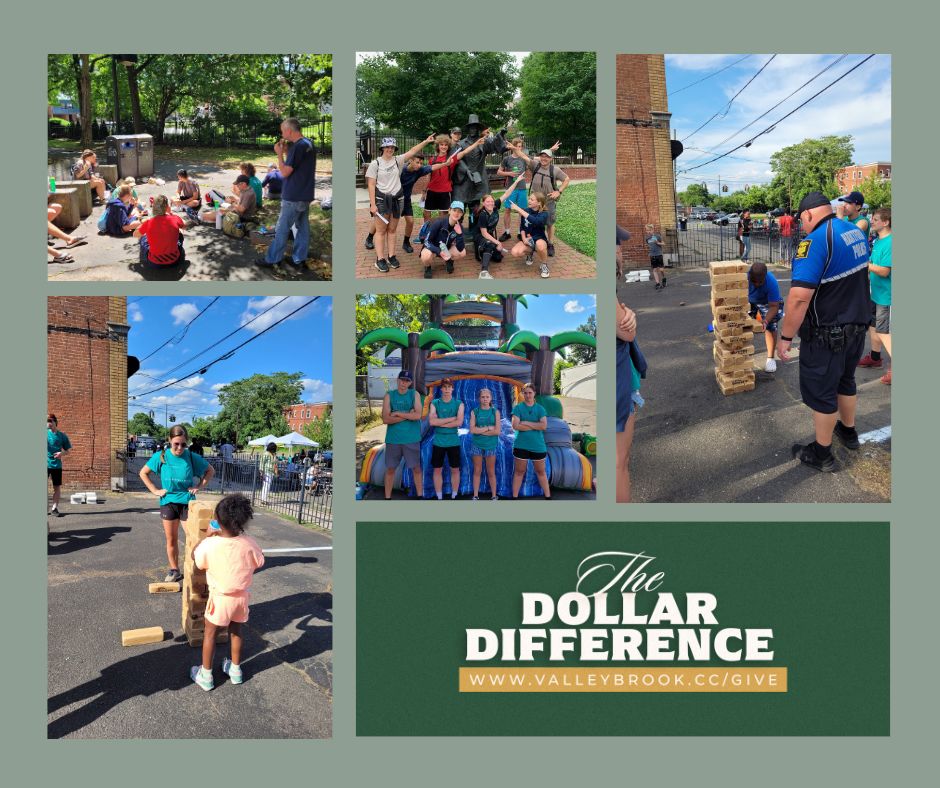 Timeframe: June 11 - 20, 2023
All dollars received as part of The Dollar Difference (TDD) during this time will go toward a portion the the registration cost for our Valley Brook students and leaders serving at The Hartford Project (THP) Our students will live in Hartford, CT for five days and serve the community, learn about poverty, experience racial reconciliation, build relationships, and participate in worship and discipleship program.
Note: Any remaining funds will be donated to THP's "Love Wins" events. Love Wins is a fun, free, family-oriented festival hosted by THP and a local church or churches. The festival includes entertainment, refreshments, games, activities, prayer opportunities, goods and services. It's designed to be a blessing to everyone who attends. It also serves as a way to connect people in the community to the local partnering church.
We're excited to see our students serve have the opportunity to:
be a blessing to others as they serve Hartford commuities and organizations


learn about the range of ways God is building His Kingdom on earth


build relationships with the wider body of Christ


learn how to find purpose for their lives in God's Work wherever they live

Celebration & TDD Gift Impact
Sunday, June 25: We'll share and celebrate the total donated during services and later in the week in our News & Reminders email (don't miss it, subscribe here). We'll also pray over our students & leaders as they get ready to serve at THP 6/25-29.


During July: We'll collect and share highlights from the student's experience at THP so you can see and hear and celebrate the difference our dollars, prayers and encouragement makes!