Our Pastor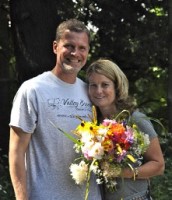 In these unprecedented times, we want you to know that we are here for you because God is here for you. If you need help or prayer please let us know. If you have decided to follow Jesus or want to talk about how to do that please let us know.
We are here for you!
Sincerely, Pastor Clark Pfaff
Pictured: Pastor Clark & Cynthia Pfaff
A Place to Belong
Welcome to Valley Brook!
We look forward to getting to know you and your family as we all seek to grow closer to God through Jesus Christ. We want to help people get connected with God and develop friendships and relationships with other people.
We're sure you have some questions, view answers to some of the common questions we receive.